Coaching High School Basketball
by SKILL DEVELOPMENT COACH
|
May 7, 2018 6:00:00 PM
|
how to coach basketball, basketball coaching, coaching basketball, High school Basketball, coaching high school basketball, team culture, positive coaching association, learning styles, John Wooden, types of intelligence, positive reinforcement
|
1 Comment
There is nothing more pure than high school basketball.
There is nothing like taking a program over and making it your own:
Planning practices

Coaching games

Preparing the team
Coaching high basketball is unlike coaching at any other level.
Year after year. It begins.
There is a lot can happen year to year.
Who graduates? Who's back?
What do we have to do for next year?...
Every year. Every season. Every team. Is unique.
It's said that some coaches coach for many seasons. And some coaches coach the same season every year.
How do you determine success?
HINT: The greatest coach ever never talked about winning.
Do you ask yourself tough (meaningful) questions:
What did I screw up?

How can my practices run smoother?

Can / should our style of play change / evolve?

Where can I improve my "in game" coaching strategy?

Are there game situations where I can do better?

How can I better empower my assistants?

If I missed practice, how would it go?

How can I become a better communicator?

How can I improve continuity between sub-varsity and varsity?

Where did we improve the most / least?

How can I be more engaging / encouraging?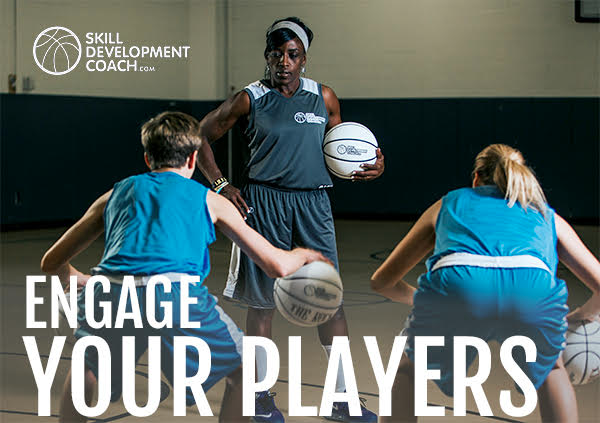 Coaching high school basketball is always about more than just the game.
One of the best things about coaching high school basketball is you get to be a huge part of a player's development from adolescence into young adulthood. This is a very important time in a young person's life, as it will shape their future emotionally, intellectually, socially, physically, and emotionally.
It's about trust.
By the end of a player's senior season, you want to to know that you have made a big difference in each kid's life. That they left your program with important life lessons that they will draw upon, value, and revisit throughout the rest of their lives. Ultimately, their futures are going to be shaped by the quality of the relationships that they have with others. How much you care about them as individuals and as unique people is going to be more important to them than how much you care about the game itself or a perfect record.
There is a lot of time. But use it wisely. Make every practice count.
The basketball season is a marathon. So you have to keep things fresh and exciting. There are many great aspects to having routines and consistency within your practices (such as timed practice drills and repetition). Routines are good. However, routines can get boring if they are not intermittently broken up from time to time, too. You want your basketball practice to always be a place of discovery and excitement. Activity, productivity, personal development and team development.
Mixing practice routines up by implementing various drills, games, and reps can sometimes be far more productive and exciting for players than simply drilling the same offense over and over and over.
Every new season is a fresh start. Wipe the slate clean.
There are certain players that you may have a fixed opinion of. Maybe they are selfish. Maybe they are not as hard of a worker. Maybe it's their personality. You are not going to "click" with every kid. it's easy to get annoyed and resentful working with the same kids over and over that are not where you would like them to be socially, emotionally, personally, developmentally. That's part of coaching. It's important to have a healthy respect for differences and not to be too imposing on players that you have differences in personality with.
Stay Positive -- 5 to 1 ratio positive to negative
Be consistent and straight forward in reinforcing the good things that you see from your players. In general, the more that you compliment the things that you want to see, the more you will see them. Without being too overt, compliment your players -- positively reinforce everything good that you see them do from their body language to their effort.
Don't neglect your best
It's common to give players that need the most attention the most attention. Often, you can get complacent with players that are always on time, always giving their best, always consistent. Make sure to make time for the the players that display the exemplary standards for their teammates Sometimes, it can be easy to take the value that they bring for granted. Make sure you do not neglect your appreciation for them.
Parents
Many think that they can do it. However, many would be the same people that would spend the whole game complaining about the refs and not even remember to substitute. There will always be parents that disagree with you and even think that they can do your job better than you do. Let them think these things. But realize that as soon as you have made a decision that contains even a twinge of thought about what a particular parent would think... then you have already lost the possession. Keep the focus on your team, the kids, the best interests of the team. Don't be vindictive or ever pull the "I told ya so" card. Just coach your team. Keep coaching your team.
Administrators
If a principal or athletic director has a salary over 6 figures, don't expect them to support you over their career. Should there be issues with parents complaining about playing time, or if things get a little bit tough for them, it's often easiest for an AD to fire or choose not to renew a coach's contract in order to appease parents. With new anti-bullying laws being applied to coaches, many very successful coaches are being shown the door.
Understand that some terrible coaches have the support of some administrators and some great coaches do not have the support of their administrators. It's all part of the business. Great coaches get let go all of the time. And bad coaches get hired all of the time. It's just the way it is. Just make sure that your side of the street is always clean. And remember, you may have a losing season. You may lose a coaching job along the way before you find a better position if you stick with it. Here is a good article on how some famous coaches got their start, and what coaching opportunities there are out there.
Learning Styles.
Have you ever drawn up a play that went like this?
2 things to take away from the video above:
1) No matter what... no matter how many times you drill it...
Players are still going to make mistakes.
2). There are multiple forms of intelligences:
If you are coaching high school basketball, you will be working with a lot of different personalities that each have various learning styles.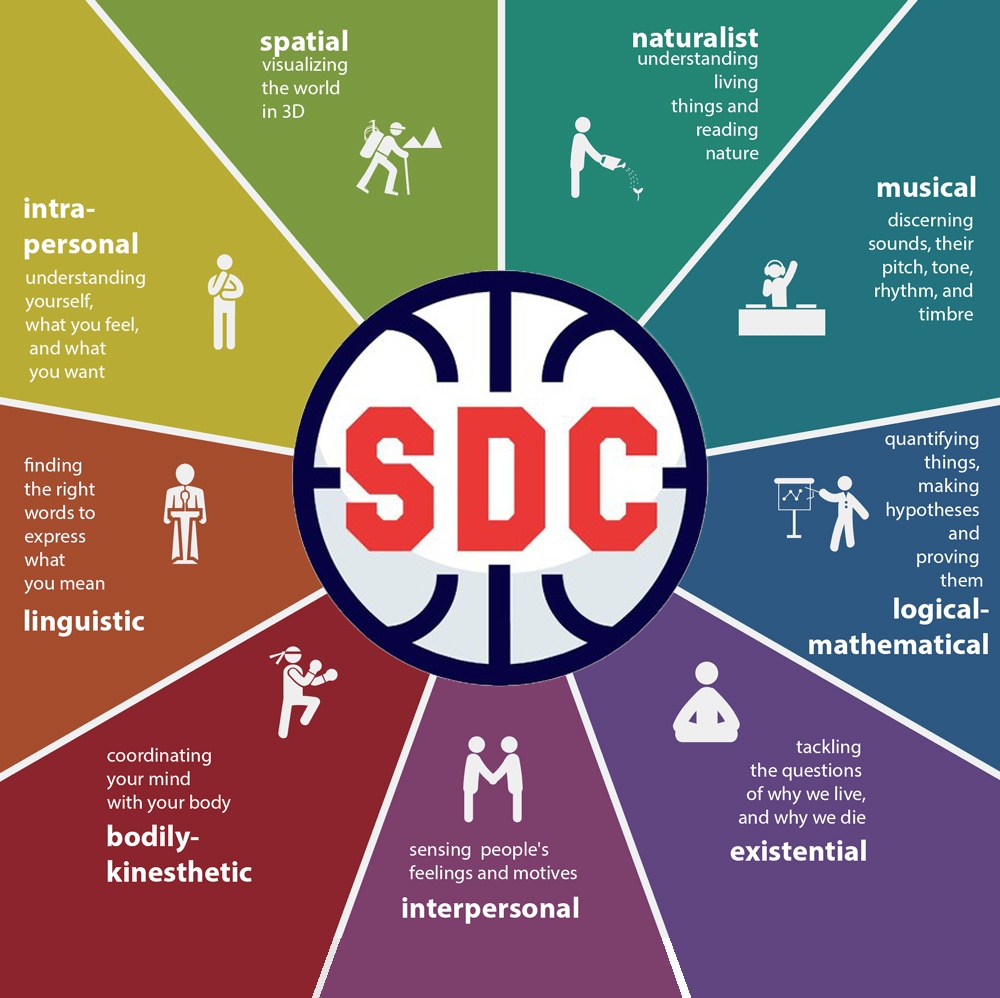 How can you bring this all together?
Your coaching success will be determined by your team culture, and how well you can uphold your own standards and expectations.
This will be the biggest factor in your success as a coach.
If you are coaching high school basketball, chances are you have plenty of players in your program that love to play the game (which is great). Most players just like to play. But even the gym rats that spend hours in the gym everyday, do not have a solid understanding about how to practice. So you are going to need to spend a lot of time on coaching player development.
The biggest problem with players is that they don't know how to practice for improvement. Basketball is, of course, a game of muscle memory. Either you have it. Or you don't.
SDC and The Periodic Table of Basketball Skills is specifically designed for basketball coaches to be able to help their players learn exactly EXACTLY what to practice.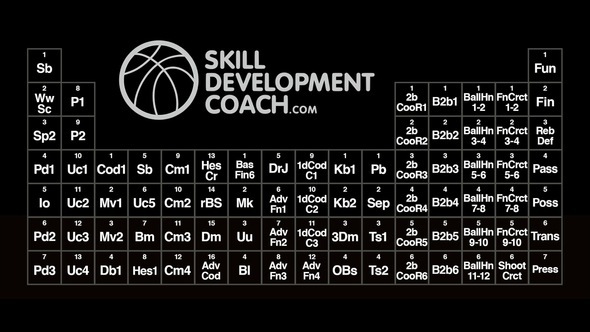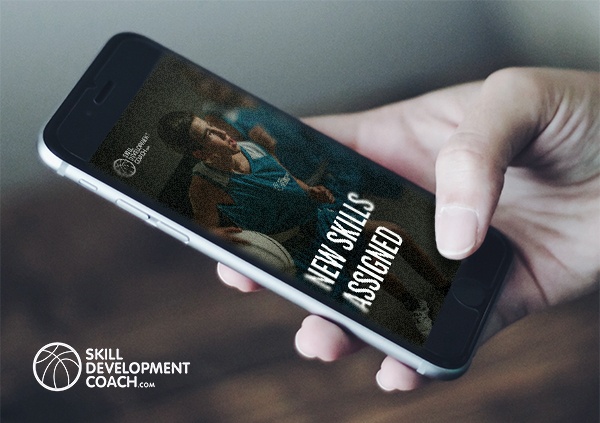 Customize. Assign. Deliver.
You can provide position specific skill development programs to each of them in seconds .And remotely deliver basketball skill assignments directly to every player's mobile device. (They are all on their phones all day anyway!)
Every day. Every week. Whenever you want, you can program and deliver:
Team workouts

Customized skill assignments

Off-season skill "homework"

Accountability assessments

Better quality control over what your players practice
All video based:
Progression driven

Assessment driven

Position specific

Game applications